Planting trees with Planète Urgence
Absolutely essential for the planet, forests play a crucial role in climate regulation, are home to exceptional biodiversity, and are a key food resource for rural populations. Yet deforestation is occurring at an alarming rate.
Planète Urgence planted 1,818,102 trees in 2021, help us do more in 2022 !
IN FIGURES
13 millions hectares
hectares of forest disappear each year, i.e. 1/4 of the surface of France. (source: FAO)
7 projects
of forest preservation and restoration are currently being carried out by Planète Urgence and its local partners in Cameroon, Indonesia, Madagascar and Peru.
produces oxygen,
stores carbon,
contributes to the maintenance of animal species and plants,
regulates the water cycle,
protects the soil,
promotes climate balance.
a way to participate in the food and economic safety for the most vulnerable populations,
a renewable energy source for millions of people,
a building material and a sustainable source of income for many craftsmen and their families.
1 € donated = 1 tree planted
"1€ = 1 tree planted" is an operation created by Planète Urgence to finance its "Environment and Development" programme and preserve forests and their endangered biodiversity. The concept is simple: for each euro donated, we commit to planting a tree in areas that have been weakened by human activity and threatened by deforestation.
Each donation is tax deductible up to 66% of its amount. For example, a donation of 50€ allows you to plant 50 trees and costs you only 17€ after tax reduction.
1€ = 1 tree planted and much more!
20 € 50 € 100 € € Planting trees
After tax reduction, your donation amounts to 17.00 €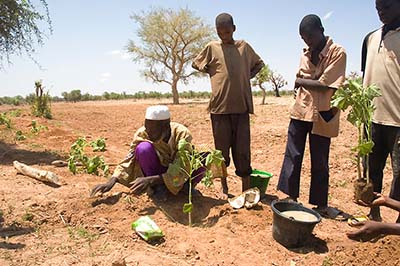 An indispensable role for the environment
By developing inclusive preservation projects in connection with local populations in Cameroon, Indonesia, Peru and Madagascar, Planète Urgence has the power to concretely and sustainably fight against deforestation.
By participating in the "1€ donated = 1 tree planted" operation, you finance Planète Urgence's 7 reforestation projects and give our local partners the means to sustain their actions.
Beyond planting, a social and sustainable action
Behind each tree planted with Planète Urgence, there is a human adventure. This is the story of a collaboration between actors in the field, local communities supported and Planète Urgence teams.
These men and women work to restore and preserve endangered forests, putting trees back at the heart of a sustainable development project for their community. In addition to the planted tree, a whole sustainable economic sector is supported, and a whole network of children and adults who are aware and involved in preserving their environment.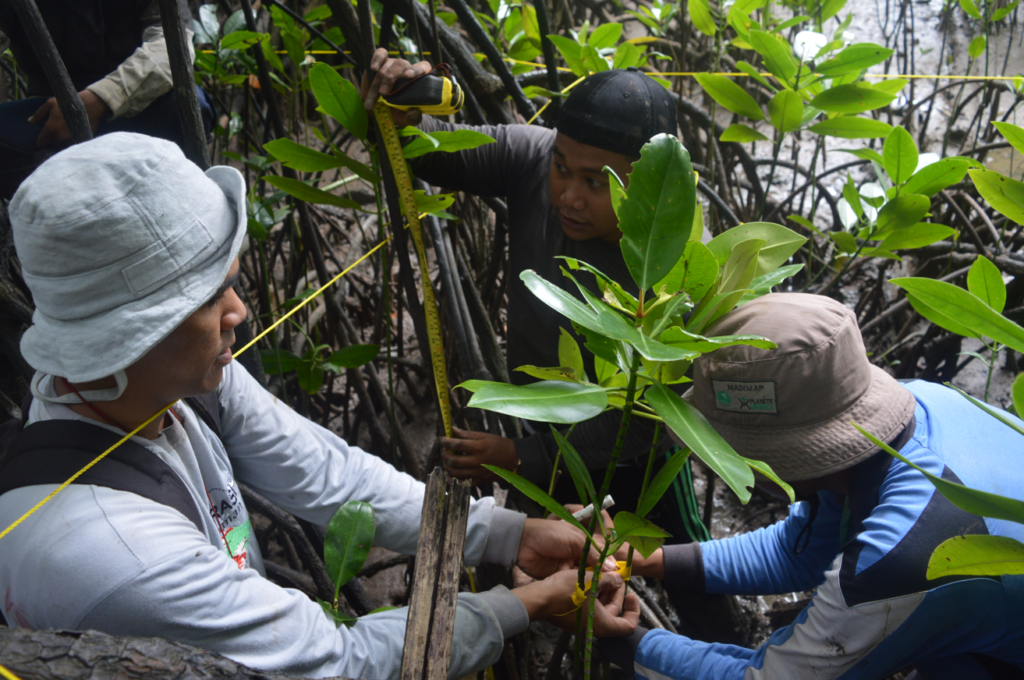 All your questions about the "1€ donated = 1 tree planted" operation
To donate in the name of your company, simply go to this form and check "Organization" before entering your details.
You will automatically receive a tax receipt for a value equal to 60% of the amount of your donation.
Each donation to Planète Urgence entitles you to a tax reduction equal to 66% of the value of the donation. This will be sent to you automatically by email at the beginning of next year, before your next tax return.
A tree planted with Planète Urgence is always planted via a local partner (association, NGO, associative network, social enterprise, national park, school, local authority, etc.) whose mission and values ​​are common with those of Planète Urgence.
The field partner brings precise environmental expertise, anchored in the local community and economic fabric. Thus, the collaboration between Planète Urgence and the identified partner makes it possible to serve a sustainable reforestation objective with an environmental, social impact and economic positive.
In general, our action will necessarily bring together villagers, children, actors in the local economy and the authorities. Most of the time, we seek to gather around the project other actors such as students, universities and research centers, in order to place the project in a more sustainable approach to capitalizing on knowledge.
A donation for the "1 euro = 1 tree planted" operation will automatically be used to plant a tree in one of our countries of intervention. This is made possible by precise monitoring and signposting internal donations, made possible by our Administrative and Financial department.
However, this euro allows much more than "only" to plant a tree. Through the construction of its reforestation projects, the funds collected make it possible to finance several additional components to the planting of the tree. These aspects of economic development, awareness and link with public policies, are the guarantee that the action taken is effective and sustainable in the long term.
This long-term development approach allows the communities concerned to perceive both the forest resource as an economic lever, but also the intrinsic richness of the tree in their environment.
Planète Urgence wishes to be able to work directly with local partners and provide field expertise in connection with national and local public policies.
To be relevant, it must be able to have great proximity and knowledge of local issues, and therefore be able to rely on a delegation established in the country. The "Environment & Development" are carried out in areas where the stakes in terms of climate change, biodiversity, deforestation and human development are particularly high, where rural communities have a real need related to the forest, where access is possible in terms of security, and where collaboration is possible with the authorities.
Planting trees wherever possible is a necessity and, therefore, we must also plant trees in France. However, Planète Urgence has chosen to prioritize the most critical areas in terms of biodiversity, risk of deforestation and where populations living near forests are most vulnerable.