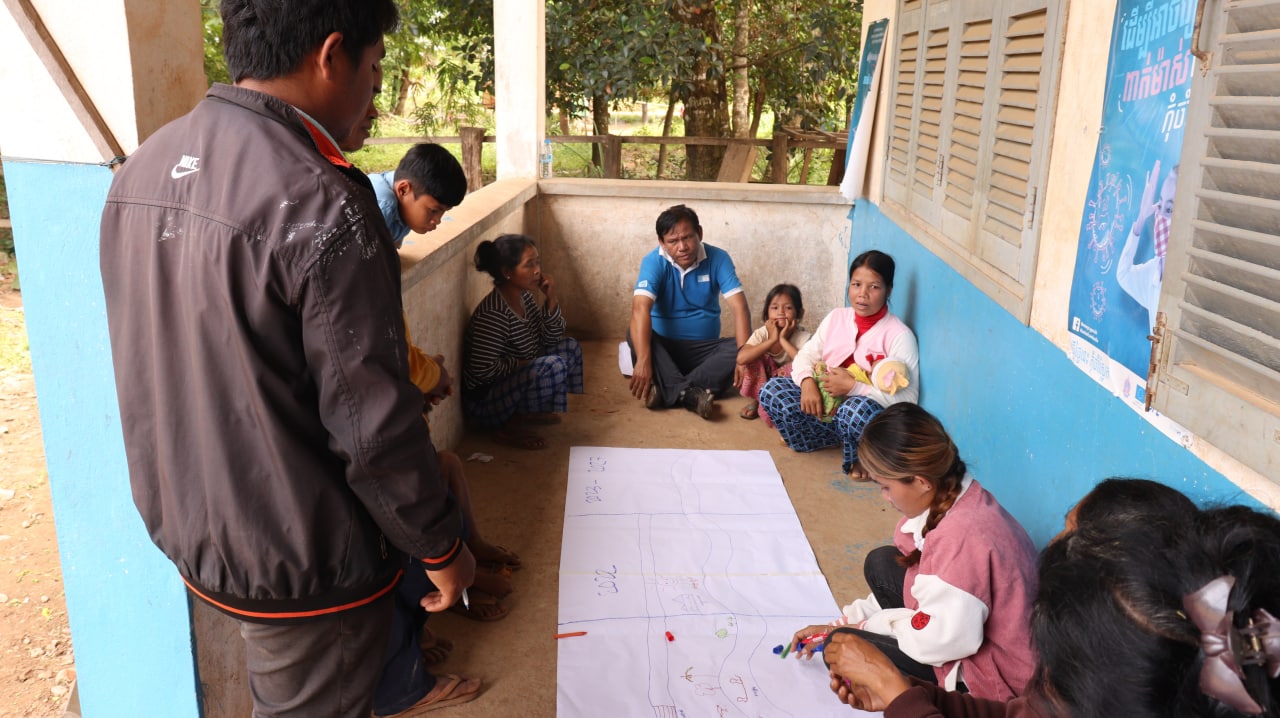 Training on market studies for the NTFP's team
The volunteer will be in charge of designing and implementing a training on how to perform a market study for the NTFP's team.
Objectifs
NTFP, is a local Non-Government Organization based in Ratanakiri Province since 1996.

NTFP works in Virachey and Veun Sai- Siem Pang National Parks that form part of a 11,217 km2 network of protected areas in Laos, Cambodia and Vietnam, one of the largest protected landscapes in the Mekong basin. Wildlife surveys in 2021 confirmed the exceptional biodiversity of the Key Biodiversity Areas (hotspot) with presence of mega fauna and flora (In total, there are ten CR species present at Veun Sai – Siem Pang National Park that consists of 84.30% of evergreen forest, 13% of deciduous and bamboo forest, and extensive upland savannahs.)
NTFP has played a critical role in helping indigenous people secure their rights to their land and natural resources (Community Protected Areas, Community Forestry creation).
NTFP has worked on the implementation of community protectors and patrols to protect the communities' lands (forests). Even though the relevance of this type of intervention has been proven, the communities' members are still not paid to provide this service and the international funds don't fund this type of intervention.
NTFP wants to develop new income generating activities in order to sustainably fund the community protectors.
Non-timber forest products like Malva nuts are currently sold within the communities' villages and constitutes the main part of community income. A past granted project (2016-19) allowed the harvest of Malva nuts to be tripled and the resulting increase in revenue provided a fund that financed community rangers to conduct patrols.
Even though important legal issues remain (required authorizations from different administrations), the ethical commercialization of these nuts could generate sustainable incomes for the communities.
NTFP wants to identify a way to commercialize these products (e.g. identify young Cambodians entrepreneurs that could create a business) but the team lack of expertise in commercialization/business development (commercialization techniques, how to conduct a market study, etc.)

This mission's objective is to support the local employees to perfom a market study that will help them to commercialize the Malva nuts.
This intervention might need several missions before the objective is complete and might be followed by a long term volunteering mission (Service Civique).
Intervention attendue du volontaire
The volunteer intervention must cover those topics:
• Analysis of NTFP's team capacities and needs in market studies
• Based on the first analysis outcomes, design a training for the team on how to perform a market study. The following topics might be covered:
o Estimate The size of the Malva nuts production
o Identify the networks for the distribution of Malva nuts
o Have a better idea of the market prices in Cambodia and Vietnam
o Find the best ways to sell Malva nuts
• A guide including recommendations and tips for the NTFP's team will be written by the trainer

The training must be very interactive, adopting a practical approach in order to facilitate the staff's understanding and application to NTFP's activities.
Remarque(s)
Training location: NTFP's office

Training hours:

• First week: activities in the field, in the village to assess the situation, meet the community leaders, CBO and community guards.
• Second week : activities and training in NTFP's office in Banlung
Type de bénéficiaires
NTFP conservation project team (7 people). 1 woman
Profil des bénéficiaires
NTFP team: some team members are fluent in English, some can understand well but don't feel confident enough to speak.
Dispositif(s) possible(s)
Congé Solidaire;Mission Solidaire
Motivation attendue
A good level of English is mandatory for the mission.
The volunteer must be self-motivated and very flexible.
She/he can adjust the training program and approach as he/she sees fit according to the circumstances.
The volunteer must be motivated to work in a forest environment.
Notre partenaire local
Non Timber Forest Products (NTFP)
Historique
Non-Timber Forest Products, NTFP, is a local Non-Government Organization based in Ratanakiri Province, NE Cambodia. Since we were established in 1996 we have played a critical role in helping indigenous people secure their rights to their land and natural resources. We also recognize the vital importance of preserving the cultural heritage of indigenous people, often inextricably linked with their lands and forests.
Accueil et transfert
The volunteer should leave on Friday to arrive in Phnom Penh on Saturday morning.
The volunteer will be welcomed by a member of PU's team and will be transported to a hotel near the airport for an overnight stay.
The volunteer will leave by mini-bus the following day/the day after (9h of travel).
Mini-bus schedules (day time only):
• 07.30 am – 4.30 pm
• 12.00 pm (noon) – 09.00 pm
Aéroport d'arrivée
Phnom Penh
Hébergement
The volunteer will be staying at a Banlung near NTFP's office (individual private room, with key-lock, private bathroom)
Matériel disponible sur place
-Volunteer should bring a laptop with him/her.
– Volunteer should also bring specific clothes to work on a forest environment (long sleeves clothes and warm clothes, boots, hat, mosquito repellent, etc.)
N° CB3AC3
Partenaire : Non Timber Forest Products (NTFP)
C, Banlung
GPS : lat
lon
Langues :
Anglais
Thématique : Environnement
Type d'intervention : Formation pour adultes
Compétences : Communication, Commerce
Nombre attendu de volontaire(s) sur la mission : de 1 à 2 volontaires
Durée : 2 semaines
Mission disponible toute l'année