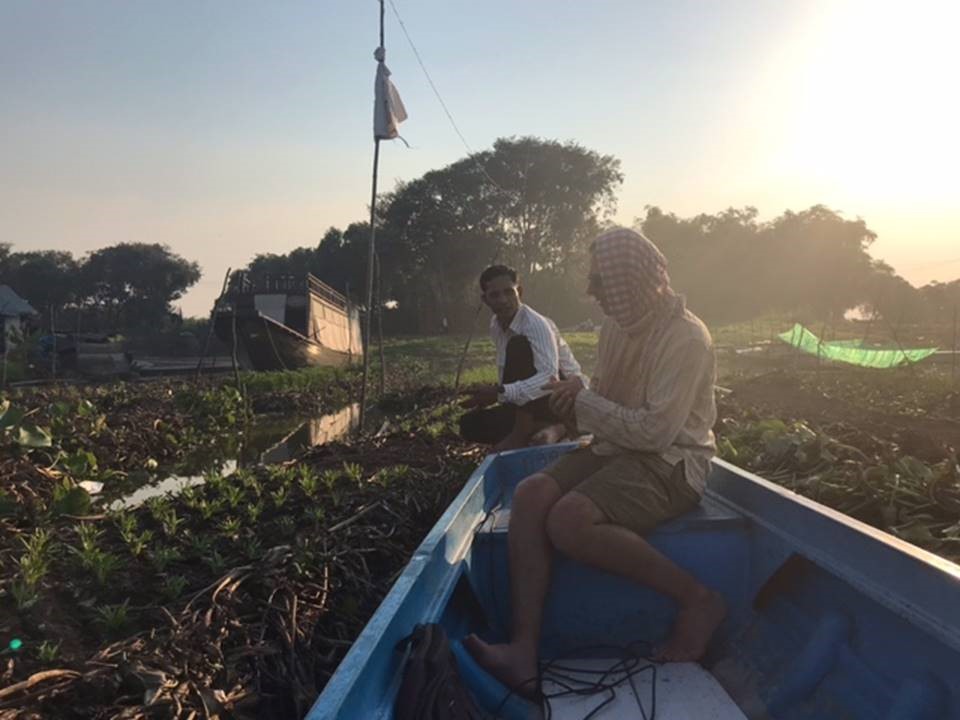 Training on Human Resources and leadership management
The volunteer will be training the operational director and the community leader in human resources management in order to increase the efficiency of the community-based projects and the community's autonomy and commitment.
Objectifs
Osmose is a non-profit NGO initiated in 1999 combining environment and development in the Prek Toal area on the Tonle Sap Lake in Cambodia. Osmose's approach is original in that it integrates the conservation of the colonies, environmental education and ecotourism, with the aim of sustainable development of the surrounding lake communities.
SARAY-CBET is an informal group of families providing goods and services to visitors in Prek Toal village, namely paddleboat tours, water hyacinth handicraft products, restaurant and homestays.
An agreement has been signed between Osmose and SARAY-CBET with the goal of developing SARAY-CBET activities and capacities towards financial sustainability, participative and fair decision process and eventually full independence from OSMOSE.

The goal of Osmose is then to strengthen the Saray-CBET groups on the lake to make them less dependent on tourism and to make their activities more sustainable. A lack of ownership sense and commitment within the Saray-CBET groups has been identified although it's key for their development. A first step has been done by clarifying the functioning of Osmose and Saray-CBET but there is no procedure to manage these groups.
Omose's also wants to develop the NGO activities (environmental education and income generating activities).

The Osmose's team lacks of human resources and methodology to go further at this point.
In order to run its projects, Osmose's team has an operational director. It also includes a community coordinator who is responsible of managing the implementation of the activities among the Prek Toal communities.

An improvement of human resources management as well as leadership management would allow the team to improve the management of both the Osmose's team and the Saray-CBET groups.
The team would also like the Saray-CBET groups to be more involved into the communities' projects by implementing participative decision- making process.

A first mission was completed in February 2023. This mission goal's is to train the team more specifically on human resources management.
It might be followed by a third mission.
Intervention attendue du volontaire
A first mission on HR management and leadership was implemented in February 2023 and covered the following topics:
o SWOT analysis and GROW method,
o DISC model – types of behavior, Change process
o Leadership model (D.Goleman, 2019) –
o HR tools: Recruitment&Selection, Performance management, Learning&Development, Succession planning, Compensation&Benefits, HR information systems, HR data and analytics
o Feedback process
Following this first intervention, the content of this second will cover:
o A follow-up on the implementation of the HR tools by the team (refresh and updates if necessary)
o Specific training on:
– Team Coaching and Staff motivation strategy
– Managing priorities
– Communication : how to better communicate with the team members/communities/partners/funders/etc.; and work on cultural awareness and sensitivity (land vs lake)
– HR Administration and procedures (employment records and contracts, internal databases, payroll, etc.)
The training must be based on practical examples (cases studies and examples taken from real Osmose's situations) and concrete guidelines adapted to the context to be implemented by the coordinator.
Remarque(s)
The training will take place in Osmose's office in Siem Reap.

The Volunteer will walk every day from hotel to office, which takes approx. 3 min

Breakfast and dinner will be taken in hotel or restaurants nearby, lunch will be taken in restaurant nearby the office.
Type de bénéficiaires
Omose's Team : operational director and community leader (2 men)
Profil des bénéficiaires
Participants: one has a general managing (BBA) background and his working for Osmose for 10 years and the other one has a grade 9 education level and enrolled as a monk for serval years
One participant speaks English and the other one is low intermediate
One participant has limited IT skills including office and Emailing
Both are not familiar with human resources management theory and practices.
Dispositif(s) possible(s)
Congé Solidaire;Mission Solidaire
Notre partenaire local
Osmose
Historique
OSMOSE's goal is to promote harmony between the local communities and the Prek Toal Ramsar Site and to facilitate both the conservation of the Tonle Sap environment and the sustainable livelihoods of the floating village communities.
OSMOSE's approach supports the conservation of Prek Toal's critical waterbird colonies through Ecotourism, Environmental Education and Social support.
The Osmose project is a pilot action initiated in 1999 combining environment and development in the Prek Toal area on the Tonle Sap Lake in Cambodia. The site is the home to the last colonies of large waterbirds in Southeast Asia, then threatened with extinction by the massive collection of eggs and young birds. The project's approach is original in that it integrates the conservation of the colonies, environmental education, and ecotourism, with the aim of equitable development of the surrounding lake communities. After six years of perseverance, the bird colonies are saved, 1000 children are following the environmental education program, and Osmose is the leading player in tourism in the area.

In addition, 100 families below the poverty line benefit from social, medical and educational support and/or alternative income-generating activities to fishing that is not dependent on declining natural resources.

Main projects:

• Environmental education (indoors and outdoors classes)
• Developing income-generating activities for the people on the lake such as jacinth waving, restaurant, hosting, and paddle boat
• Creating a local cooperative to manage economics activities.
• Support this cooperative in order to get its full independence
• Eco-tourism
• Training guides specialized in birds
• Implementing floating gardens
• Mobiles clinics
• Distributing filters and train people to use and maintain it
Accueil et transfert
A member of Osmose's staff will welcome the Planète Urgence volunteer at the airport and accompany him/her to his accommodation (approx. 30min)
Aéroport d'arrivée
Siem Reap
Hébergement
The volunteer will be staying at a Hotel near Osmose's office in Siem Reap. The accommodation will include a private room with private bathroom, electricity and internet connection.
Matériel disponible sur place
Projector, flip chart, computer
N° CB2UC5
Partenaire : Osmose
C, Siem-Reap
GPS : lat
lon
Langues :
Anglais
Thématique : Développement
Type d'intervention : Formation pour adultes
Compétences : Management des organisations
Nombre attendu de volontaire(s) sur la mission : 1
Durée : 2 semaines
Dates :
📅 04-09-2023 au 16-09-2023