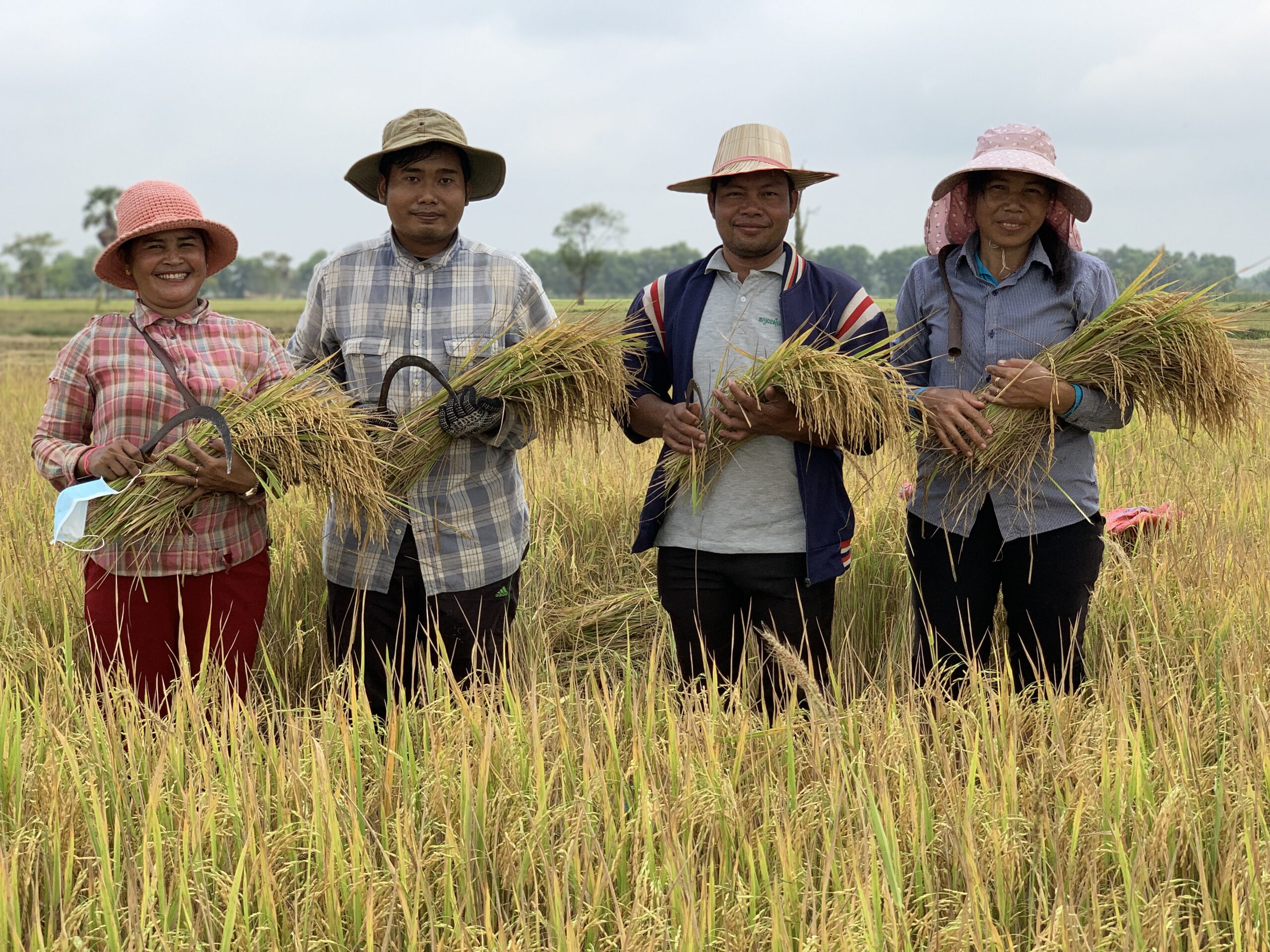 Training on Climat Smart Agriculture's approach and techniques
The volunteer will be in charge of supporting CSA's team in the understanding of Climate Smart Agriculture (CSA) approach and practices.
Objectifs
READA is a Cambodian NGO supporting impoverished rural communities to achieve advanced socio-economic autonomy through gaining the necessary knowledge, skills & access to services to undertake and pursue sustainable livelihood activities (ranging from agriculture to small and medium businesses) whilst also increasing awareness on social and health issues.
READA is currently implementing a project ,Climate Smart Agriculture-Roll Out (CSA), for 3 years (01.2021 to 12.2023), mainly in Siem Reap Province. CSA project aims to:

– Building the capacity of at least 3,600 small producers who are ACs members on Climate Change adaptation technologies (Climate Smart Farming) for improving the productivity and reducing farmers' vulnerability to environmental risks through providing 150 CSA Field Schools and demonstration on 3 main crop production rice, vegetable and cassava.
– Improving the linkage to markets for CSA products
– Advocate the CSA technologies or concept to the duty bearers

In order to implement more effectively the project's activities, the team wants to strengthen its capacity on CSA approach and techniques.

This mission's objective is to support the local employees with a need-based training on how to implement new CSA techniques on the field. For this first intervention, the CSA techniques will be in particular:
– Pest management which focuses on smart techniques on crop protection,
– Identification of pest symptom and effective use of organic and inorganic pesticides to control crops at the right time.


This intervention might need 3 missions before the objective is complete.
Intervention attendue du volontaire
The volunteer intervention must cover those topics:
• Analysis of READA's team capacities and needs in CSA techniques
• Based on the first analysis outcomes, design a training for the team. The following topics might be covered:
o Pesticides: Classification of agrochemicals/pesticides, Pesticide Mode of Action and Compatibility, Effectiveness of Pesticide Application and Pesticide Resistance,
o Pest and Disease: Scouting Program in Pest and Disease Identification, Major Pest Identification and Control, Major Disease and Nutrient Deficiency Identification and Control,
o Farm, Food and Environmental Safety, 3s Principles, IPM Practice, Oil Spray, Live Barrier,

• A guide including recommendations and tips for the READA's team will be written by the trainer
The training must be very interactive, adopting a practical approach in order to facilitate the staff's understanding and application to READA's activities.
Remarque(s)
Training location: READA's office in Siem Reap

Training hours: 8 hours per day, in the morning and in the afternoons.

An online meeting will be organized with the volunteer before his/her arrival to organize more precisely the training/identify the topics.

The volunteer will have a few days to learn about READA and design the training with the management team (at least 3 days).

The training will be then from 3 to 5 days depending on the availability of the teams.

Then the volunteer and the teams will write together the report (1 to 2 days).

Volunteer will walk from hotel to office, which takes approx. 3min

Breakfast, lunch and dinner will be taken in hotel or restaurants nearby.
Type de bénéficiaires
READA's team:
Management : 1 Executive Director (Man)
Administrative and Finance Manager: 1 (Man)
Program Manager: 1 (Woman)
Accountant: 1 (Woman)
Project Office: 1 (Man)
EAC Team: 8 (5 women) : Led by 1 project coordinator
CSA Team : 7 (3 women) : led by 1 project coordinator
Since READA has received fund from Agricultural Denmark Asia (ADDA), we also work together with four ADDA's staff members :
Deputy Coordinator : 1 (Man)
Accountant : 1 (Woman)
Supporting Staff : 2 (women)
Profil des bénéficiaires
Educational Level of the READA Team:
The lowest level is Bachelor Degree and the highest level is Master Degree.
The age of the team as beneficiaries is between 25years old to 44 years old.
Dispositif(s) possible(s)
Congé Solidaire;Mission Solidaire
Notre partenaire local
Rural Economic and Agriculture Development Agency (READA)
Historique
Significant progress has been made in Cambodia since the end in 1998 of 3 decades of war and serious internal conflicts. However given the sheer scale of the damage which left our nation stripped off its civil society, infrastructure and education system; achieving sustainable socio-economic improvement benefiting society as a whole will require patience and dedication. In rural areas where 80% of the population live, too many people are still living in extreme poverty, being deprived of the necessary services, knowledge and tools to improve their living conditions. Some of the daily struggles poor rural communities still face today are inefficient agricultural knowledge and resources (such as effective irrigation system), remoteness to markets, poor access to health care and education, lack of job opportunities within the village, limited awareness in areas such as nutrition, sanitation & hygiene etc. Furthermore, the civil war and especially the Khmer Rouge era have left widespread misconceptions and fear of local authorities.
At READA, we want to address these challenges and promote poverty reduction and sustainable development.
Accueil et transfert
The volunteer will be welcomed by a member of READA's team and will be transported to a hotel by car.
Aéroport d'arrivée
SIEM-REAP
Hébergement
The volunteer will be welcomed by a member of READA's team and will be transported to a hotel by car.

The volunteer will be staying at a Hotel near READA's office (individual private room, with key-lock, private bathroom)
Matériel disponible sur place
Volunteer should bring their laptop with him/her.
-Volunteer should tell the READA team in advance the other supporting materials she/he needs to make their teaching effective and efficient so that the team can help prepare on time.
N° CB2ZC3
Partenaire : Rural Economic and Agriculture Development Agency (READA)
C, Siem-Reap
GPS : lat
lon
Langues :
Anglais
Thématique : Développement
Type d'intervention : Formation pour adultes
Compétences : Agriculture
Nombre attendu de volontaire(s) sur la mission : 1
Durée : 2 semaines
Dates :
📅 16-09-2023 au 30-09-2023